After an overnight stay in Maynooth University, walkers set off on their final day of the 2017 National Famine Way, travelling another 27km from Maynooth to their final stop at the Famine Sculpture in Dublin City Centre. The group was joined along the way by some friendly walker/waders (see below left),
as well as by another group of dedicated Famine Way journeyers at Louisa Bridge in Leixlip (see below right).
The Famine Way walkers took a well-deserved break (and another 360-degree photo) at the Twelfth Lock pub in Castleknock.
The walkers stopped at Broombridge Railway Station in Cabra where they took another opportunity to showcase the 360-degree digital technology from ADAPT
The end of the National Famine Way 2017 was celebrated with a reception and refreshments in a city centre hotel.
Did you join us along the way? We'd love to hear from you. Follow us on Twitter @famineway and use the #Famineway & #Missing1490 hashtags.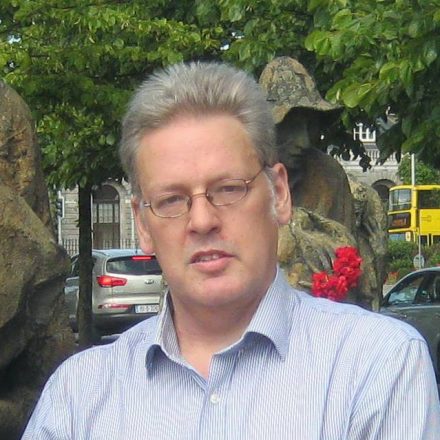 Dr Jason King is academic coordinator for the Irish Heritage Trust. He has previously taught at NUI Galway, the University of Limerick, the Université de Montréal, Concordia University, NUI Maynooth, and NUI Cork.
He specializes in Great Irish Famine digital content:
https://nationalfamineway.ie/
http://faminearchive.nuigalway.ie/