Ireland's official Famine Heritage Trail is an adventurous 165 km cross country pilgrim walk layered with history, art and culture. It weaves through country lanes, villages, towns and Dublin city mostly along the banks of the Royal Canal.  It can be done in sections or all at once – as you choose.
Follow the story of Strokestown's Famine Emigrants whose journey is marked by bronze shoe sculptures along the route. The trail is topped and tailed by  iconic museums – "The National Famine Museum" at Strokestown Park in Co Roscommon and "The Jeanie Johnston Famine Ship" and " EPIC The Irish Emigration Museum" at the Dublin end.
Download our App now to hear
little twelve year old Daniel Tighe tell his story from Black '47 and also learn all the interesting local history around you in this area. Better still why not become an Official Walker with our Passport Guide, Ship Ticket  and Certificate of completion. Learn more at
www.nationalfamine
way.ie
THE STORY OF THE SHOES
The children's bound shoes that are cast in bronze along the National Famine Way were discovered by a local farmer, in the roof of a ruined nineteenth-century cottage. He donated them to the National Famine Museum at Strokestown Park. We know nothing of the child they belonged to, but local folklore holds, that such offerings were made to invoke good luck. These evocative shoes symbolise the hopeful journey that our 1,490 emigrants embarked on, especially taking in the fact that two thirds of them were children. The binding evokes the difficulties they encountered and the eternal bind, to the place they were leaving.
TIGHE / TYE FAMILY STORY
At the height of the Great Famine in 1847, Mary Tighe was left a widow with five children to feed. In a desperate attempt to save her family, she availed of the 'Assisted Emigration Scheme' offered by Major Denis Mahon in Strokestown. She succeeded in her mission to save her family, but paid a high price. Mary Tighe, her  brother, and three of her children, lost their lives on board the Ship Naomi that sailed from Liverpool to Quebec.
Daniel, aged twelve and his nine-year-old sister, Catherine were the only family members who survived the transatlantic voyage on the Naomi. Daniel himself recounted the horror of watching the bodies of his mother and brothers being thrown overboard and buried at sea.
Taken into the care of the Coulomb family in Lotbinière, Quebec, these two small children found themselves on a 168 acre farm, a world away from a half acre in Lisonuffy and a world away from everything they had ever known or loved.
In 2013, the Strokestown Community invited Daniel's great grandson, Richard Tye (changed from Tighe), back home. And so, 166 years after little Daniel left, his descendants again set foot on Irish soil, a community celebrated, long-separated cousins embraced, and the family was again bound together.
The National Famine Way intertwines History through the Arts: not only in sculpture but also in literature and music. Daniel's Tighe's story reimagines each of the spaces and locations he passed through in May 1847.  It is a digital storybook written by renowned and beloved Irish author 
Marita Conlon-McKenna.
The Anthem for the National Famine Way is by well known folk singer Declan O Rourke a beautiful song Go Domhanin i do chumhnie from his Album Chronicles of the Great Irish Famine.
Listen Here
Gaelic translation:
Cuir tús le do shiúilóid ag an Bhalla Cuimhneacháin Ghloine ag Musaem an Ghorta Mhóir i bPáirc Bhéal na mBuillí i Ros Comáin agus siúil go Cluain Dá Rath agus as sin cois canála go Baile Átha Cliath, turas 165 cilimeadar. Tá ceann scríbe d'aistir ag dealbha an Ghorta Mhóir taobh leis an Jeannie Johnston, ar ancaire ag Cé Theach an Chustaim, san áit dheireanach ar leag an  1,490 duine as Ros Comáin cos ar thalamh na hÉireann i mí na Bealtaine 1847.
Thug a dtiarna talaimh an Maor Denis Mahon rogha an dá dhíogha dóibh, 'imirce chuidithe', ocras sa bhaile lena ngort de phrátaí lofa nó dul isteach i dteach scanrúil na mbocht.
Réamhrá don Chosán
Faoi shúil ghéar bháile an eastáit, John Robinson, cuireadh na fir, mná agus páistí seo ag siúil cois na Canála Ríoga go duganna Bhaile Átha Cliath áit a raibh galtáin ag fanacht chun iad a bhreith go Learpholl. As sin chuaigh siad ar bord loinge, 'longa galaracha an bháis', ina measc an Virginius agus an Naomi a d'iompair iad ar thuras scafár go Quebec i gCeanada. Fuair beagnach leath na n-imirceach ar bord an dá long seo bás ar an turas, ach d'éirigh rud beag níos fearr leo sin ar an Erin's Queen agus ar an John Munn.
Aimsíodh ainmneacha an '1,490 Caillte' i gCartlann an Ghorta Mhóir i bPáirc Theach Bhéal na mBuillí. Tá a gcuid ainmneacha agus a mbailte fearainn greanta ar an Bhalla Cuimhneacáin Ghloine ag Páirc Bhéal na mBuillí – teistiméireacht dá scéal.
SHOE STORIES – DANIEL'S STORY – BLACK '47
Shoes Stories by Marita Conlon-McKenna:
My name is Daniel Tighe. I am 12 years old.
In May 1847, the worst year of the Great Irish Famine, I walked this path from Strokestown to Dublin heading for a ship and in hope of a new life in North America. Follow in the footsteps of my story which is marked by over 30 pairs of Bronze Shoes along the National Famine Way– now a 165 km accredited trail. 
Mother cried when she got a notice for us to quit our small holding in Liosonuffy. Major Denis Mahon, the new master of Strokestown Park House, had discovered the estate was badly in debt. He would no longer stand for rent arrears, hunger or no hunger; no matter how bad things were for tenant families like ours.
Not long ago his agent John Ross Mahon had gone around every acre and piece of his 13,000 acres counting tenants and sub tenants carefully, asking all kinds of questions of everyone.
Our potatoes had rotted, we had no food and nothing to keep us but all this man cared for was finding out how many people slept under each roof.
Our family the Tighes had always been good tenants of the Mahon family but since all the potatoes we planted rotted last year and 'the hunger' came things have been desperate for us and all the families around us.
With nothing to feed us and no money to buy food, my stomach hurts and rumbles near every day. My little sister Catherine and brothers often cry with hunger for all we have is what we gather, a few turnips, nettle soup and some yalla meal to eat.  Starvation is a terrible thing!
My Da, Bernard, got a place on the Public Works Scheme improving the lake on the estate. The work was so hard that it made my Da get sick with fever, like a lot of the other men. He died two months back and since then Mother is at her wits end trying to look after and feed the five of us.
'Where are we to go if we surrender our cottage and land?' worried Mother. 'Are they going to throw us out on the roads or put us in the Poor House?'
ROSCOMMOM STROKESTOWN 1 – Glass Wall
We soon found out that we were not being sent to Roscommon Workhouse, but instead were being offered assisted paid passage by Major Mahon on ships sailing to Canada.
'It would cost the Major far too much to keep so many in the Poor House,' grumbled our neighbour, Mrs Quinn. 'So instead they are sending us off on ships to some foreign land half way round the world. Thomas and Patrick stop squabbling –        anois !'
'They want to clear us out for there is nothing left for us here,' Uncle William says bitterly. 'Better a new start and new life in another country.'
By the time the hawthorn began to blossom, Mother had started to pack up the few things we possessed, as Mr Robinson, the bailiff, told us to be ready. We would be setting off from Strokestown near the end of May. We would have a long walk of a hundred miles to Dublin where we would board the ships.
Mam, and my sister Catherine and I and my brother Thomas had no shoes for such a walk. But shoes had been provided for those who had none, in a random bundle in Bawn Street, and a few paltry pound for surrendering the land.
'My feet hurt,' complained little Bernard, kicking off his new shoes.
'My toe is squashed,' said Catherine.
'They will stretch as you as you walk,' bossed Mother firmly. 'We will all soon get used to them.'
The Bailiff, Mr Robinson, and five strong men came to Liosnouffy and once we surrendered our home. They tumbled our cottage, once we signed up to the assisted emigration scheme. Long before leaving – – so for weeks we had to beg lodgings.
We watched as the thatched roof and every bit of the stone walls were knocked to the ground — for they did not want us to ever return to Liosonuffy, the place we loved, the place my Dad built. I stay strong as Mam and the two youngest wail and cry.
They worked off lists, ticking us off. They only asked for the name of the male lead, our Uncle William Kelly. The rest of us were only numbers to them lot in the Big House.
History: Strokestown Park and the National Famine Museum
You are now in County Roscommon. Embark on a journey of discovery as you explore the Land of Memories. Roscommon is a county of castles and ancient kings, of stately homes and spectacular landscapes. A county rich in memories from bygone times and a county that warmly invites you to create new memories, as you discover this Hidden Heartland. Check out https://www.visitroscommon.ie/

STROKESTOWN 
Strokestown was formerly O'Connor Clan territory which became the estate of the Anglo-Irish Mahon family from about 1671 until in 1979.  After the Anglo- Irish system crumbled, it was purchased by local garage man – Jim Callery, under whose breadth of vision and philanthropy it has been developed over the past four decades. Strokestown is an authentic Georgian Estate with a planned market town surrounded by lakes & the wonderful Sliabh Bawn Mountain recreational facility. 
Strokestown Park became infamous in 1847, when Denis Mahon was the first landlord to be assassinated during the Famine period with repercussions as far as the Vatican, Rome and The British Parliament, London. The gun used to shoot Major Mahon is on display in the Famine Museum.
In the 1970s, houses such as Strokestown Park faced a precarious future and their value lay mostly in the adjoining land. In 1979, the house and estate were purchased by the Westward Garage Group and a chance discovery of boxes containing documents secured the fate of Strokestown Park.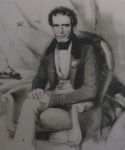 Portrait of Major Denis Mahon
Jim Callery, the founder of the Westward Group, was exploring the house and uncovered letters and documents relating to the estate, most notably a letter from tenants in the townland of Cloonahee. Dated 1846, the letter was a plea to Denis Mahon to provide them with some form of relief as their potato crop had failed and their situation was desperate. The Cloonahee petition can be seen on the Great Famine Voices introductory video:
Realising the significance of the material, Jim had the foresight to recognise that Strokestown Park was a unique resource that spanned almost 350 years of Irish history. His company, the Westward Group, have supported this initiative since that day through a continuous programme of restoration work. This has included restoring the house and gardens and establishing the first Famine museum in Ireland in order to preserve and share this important part of our heritage.
The National Famine Museum at Strokestown Park, which opened in 1994, was founded by Jim Callery. Using the documents and objects from Strokestown Famine Archive as a basis for the interpretation, the National Famine Museum has sought over the past twenty five years to help tell the stories of the Irish Great Hunger, eviction, migration, the assisted emigration scheme enacted by Major Denis Mahon of Strokestown Park and of his murder in November 1847. Ireland's Great Hunger Institute at Quinnipiac University partners with the National Famine Museum to run an annual Irish Famine Summer School and Conference  as well as the Great Famine Voices Roadshow to further these explorations.
The Irish Heritage Trust has been working with Strokestown Park and the Westward Group since 2010 to help secure the future of this special place.  On 1st August 2015 the Trust became responsible for the property, team and the archive. The Trust will continue the work to restore and care for this place, supported by the Directors of the Westward Group, to create a sustainable operation for future generations.
In 2014, a glass wall memorial was unveiled to commemorate the 1,490 emigrants from Strokestown Park House assisted to emigrate to Canada by Major Denis Mahon, up to half of whom perished during the transatlantic voyage on board ships like the Virginius and Naomi and in the fever sheds of Grosse Ile.  The glass wall memorial now marks the trail head of the National Famine Way.
Professor Mark McGowan (University of Toronto) reflects on the harrowing journey made by Strokestown's 1,490 Famine emigrants at the glass wall memorial which commemorates them:
Also see a reenactment of the eviction of Stroketown's 1,490 Emigrants below:

Local Attractions
Attractions Nearby:
Please check ahead for opening hours as some are restricted / seasonal.
Sliabh Bawn Mountain – Trails    https://www.sliabhbawnwindfarm.ie/recreation/
Cruachan Ai – Rathcroghan Visitor Centre – neolithic Royal site – https://www.rathcroghan.ie/
Nineteenth-Century Windmill, Elphin 
ARTS & LITERATURE CONNECT:
Percy French –  one of Ireland's foremost songwriters and entertainers.  French is also recognised for his collectible watercolour paintings.