Cathal Póirtéir in Cloonshanagh Bog on the landscapes of Famine Ireland and potato blight. He recites three verses in Gaelic from Na Fataí Bána (The White Potatoes) by Peatsaí Ó Callanáin:
Ba iad ár gceáirde iad ó am ár gelaibháin
Ach is é mo dhíobháil iad imeacht uainn
Ba mhaith an chuideacht iad is an t-údar rince
Biodh spóirt is siamsa againn in aice leo.
Sin é an dáta is níl fáth gan ábhar
A mbeidh cuimhne is trácht air i gcaitheamh an tsaoil
Mar níor tháinig uireasa dá mhéad a cháiliocht
Is mó na gantann in easpa an bhídh.
Céard a cheannós bráithlín don fhear a sinfear
Tobac ná píopaí ná cónra chláir
Ach Ard Rí Fhlaithúnais le cabhair is slí 'gainn
Agus ar ndóigh b'aoibhinn dhúinn dhá bhfaigheadh muid bás.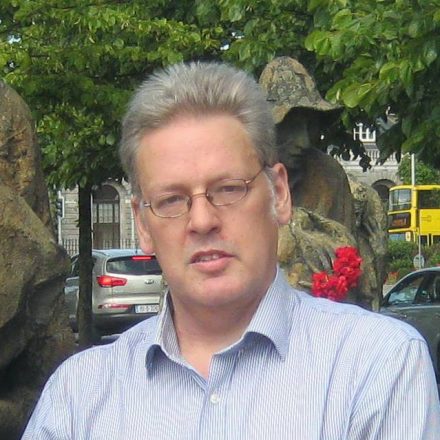 Dr Jason King is academic coordinator for the Irish Heritage Trust. He has previously taught at NUI Galway, the University of Limerick, the Université de Montréal, Concordia University, NUI Maynooth, and NUI Cork.
He specializes in Great Irish Famine digital content:
https://nationalfamineway.ie/
http://faminearchive.nuigalway.ie/