Carn hill Famine village ruins.
The National Famine Way passes through the more remote parts of Westmeath along the Royal Canal. In Famine & Community in Mullingar Poor Law Union, 1845-1849. Mud Huts and Fat Bullocks (Dublin: Irish Academic Press, 1999), Seamus O'Brien notes that the villages in the Killare area along this stretch of canal were particularly devastated by the Famine, and that "throughout the union generally the appearance of the population was wretched. Their clothing was in rags" (24). "The biggest losses here occurred," he adds, "in the southwestern districts of Castletown and Killare where 53 and 40 percent of their respective populations either died or emigrated between 1841 and 1851" (48). Near the Royal Canal are "the ruins of the Famine village on Carn hill and the now fossilized lazy beds which supported it" (56).
In his book Carn, Killare: A Forgotten Westmeath Famine Village (Rathlainne Publications, 2000), Seamus O'Brien this authentic famine ruin. In his own words:
This area of Westmeath belies the usual depiction of the county as a typical part of the central plain of Ireland with its limestone solution lakes, rolling pastureland and extensive raised boglands. The area west of Mullingar is quite hilly. Historic Usnagh hill with the famous "Catstone" erratic on its southern flank, is justifiable the most famous of these limestone hills. Directly opposite Usnagh is Carn hill, a structural limestone fold which has an average elevation of 600 feet above sea level.
Famine village cabins, artist rendering.
The Famine village was in a sheltered central location near the summit of the hill… The skeletal remains of the many stone houses still visible on Carn hill today, as well as being evidence of the last and seemingly final human settlement in this area of Westmeath, are a poignant reminder of the economic pressures experienced in this region during the Great Famine" (9-10).
Map of Carn Hill Famine village.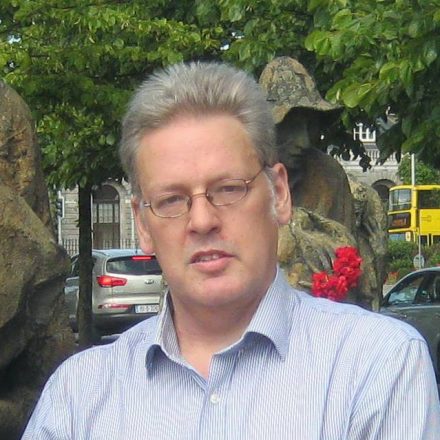 Dr Jason King is academic coordinator for the Irish Heritage Trust. He has previously taught at NUI Galway, the University of Limerick, the Université de Montréal, Concordia University, NUI Maynooth, and NUI Cork.
He specializes in Great Irish Famine digital content:
https://nationalfamineway.ie/
http://faminearchive.nuigalway.ie/