From Irish Times (March 31, 2017)
http://www.irishtimes.com/culture/books/i-feel-an-obligation-to-re-engage-and-better-understand-what-it-is-to-be-irish-1.3032147
'I feel an obligation to re-engage and better understand what it is to be Irish'
Author Michael Collins explains why as an emigrant, a father and a writer he feels drawn to explore his own sense of Irishness
Fri, Mar 31, 2017, 12:49
Victor Boyle, Marc Miller MP, Fergus Keyes, Michael Collins and Ronan Corbett at Montreal's Famine memorial in 2016
My relationship with The Irish Times started last year when I approached its books editor Martin Doyle about running a marathon a day from Grosse Île to Toronto. He graciously agreed and found funding for me through the Department of Foreign Affairs' Global Irish Media Fund.
In the year of preparation, both in the (over 6,000) miles run and relying on the support from Famine scholars Dr Christine Kinealy and Dr Jason King, I owe a debt of gratitude. I would also like to acknowledge the help and support of the Montreal Irish Monument Park Foundation and Ireland Park Foundation, Toronto. Though separate entities, they are bookends to a Canadian passage along the Saint Lawrence and their organisational resources have allowed scholars to further research the passage from Quebec into Ontario, two disparate and unique histories that are now being explored in earnest.
Many of the towns that I passed on my run had erected Celtic crosses in remembrance of those Irish who died along the route of the Saint Lawrence. Much of the historical record, including the location of the mass burial of the typhus victims, was lost until Dr King began his research. Efforts are underway to create a virtual historical tour of the journey.
[soundcloud url="https://api.soundcloud.com/tracks/315217435″ params="color=b74f7d" width="100%" height="166″ iframe="true" /]
Perhaps it is an immigrant lament, but in the accumulation of years since I left Ireland, and with the advancing years of my children, I feel an obligation to better understand what it is to be Irish
With the completion and release of my 10th book, I have sought to reorient myself toward my own sense of Irishness. Perhaps it is an immigrant lament, but in the accumulation of years since I left Ireland, and with the advancing years of my four children, I feel an obligation to re-engage and better understand what it is to be Irish. We are remembered in the historical record as victims, as a people of a terrible genocide or famine. Indeed, even giving our suffering a name had been a cause of contention.
In a continued effort to help tell our story, I've a Facebook page that serves as a digital repository of historical documents that I uploaded during my run last year, along with daily videos I recorded. It continues to be updated. More than 100,000 people visited the page during June/July last year. It can be accessed at facebook.com/irishdiasporarun2016
For many, the rediscovery of a historical event some 150 years past has opened deep psychological scars. Of the 100,000 visitors to our page, many are now availing of online genealogical resources, and adding to the collective story of the passage and eventual settlement of those immigrants who crossed in 1847. The fated story of families separated through quarantine is a recurring motif. For a decade after the passage of 1847, notices appeared throughout Ontario with relatives inquiring after their loved ones. We are actively collecting and collating these accounts.
Indeed, for many of the diaspora Irish I met along the run, the ancestral passage to Canada and America, especially during the hunger years, is still perceived as a form of exile connected to draconian British rule. In total, the Great Hunger accounted for the emigration of more than a million and the death of another million. Even contemporary descendants far removed from the tragic departure of the Hunger years, when asked to reflect on their ancestors' arrival to Canada, were more apt to characterise it as an exile than an opportunity.
The journey continues. I am participating in a sponsored walk from May 27th to June 1st, 2017, organised by The Irish National Famine Museum. Starting from Strokestown Park House along the Royal Canal and continuing to Dublin, the walk retraces the route of the 1,490 tenants who were forced to emigrate to Quebec in 1847. The museum is also launching a campaign to try to find as many living descendants of the original 1,490 Strokestown emigrants as possible. Ireland's President Michael D Higgins will greet the walkers along the route.
Again, I am indebted to so many for a year of writing and running, and for being granted the opportunity to reconnect with those at home and afar.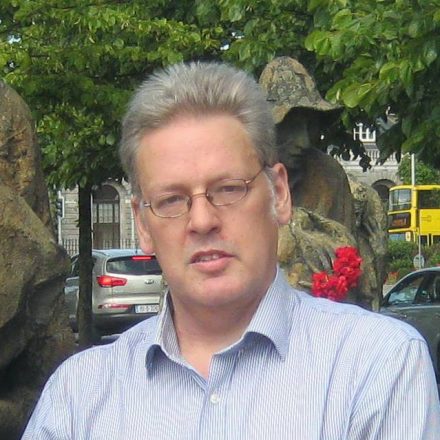 Dr Jason King is academic coordinator for the Irish Heritage Trust. He has previously taught at NUI Galway, the University of Limerick, the Université de Montréal, Concordia University, NUI Maynooth, and NUI Cork.
He specializes in Great Irish Famine digital content:
https://nationalfamineway.ie/
http://faminearchive.nuigalway.ie/