The 2017 National Famine Walk got underway today as the international group of Famine scholars began walking in the footsteps of the 1,490 tenants from Denis Mahon's estate who were forced to emigrate during the summer of 1847.
Early this morning, the Famine walkers gathered in Strokestown House to say their final farewells before embarking on the six day walk to Dublin. From Strokestown, the walkers made their way to Clondra where they were greeted by President Michael D. Higgins who joined them as they set off on the next leg of the journey to Mosstown.
Read the President's speech in full. 
Day 1 of the walk coincided with the 200th anniversary of the founding of the Royal Canal. As part of the commemoration organised by Waterways Ireland and the Royal Canal Amenity Group, President Higgins unveiled a plaque marking the bicentenary at Richmond Harbour. Next to the plaque sits a pair of bronze famine shoes which represent the journey made 170 years ago by the 1,490 tenants.
Escorted by Bailiff John Robinson, the walkers then set off in heavy rain from Clondra towards Mosstown. Their daily progress can be tracked in real time using the map on our homepage.
In addition to articles in the Roscommon Daily, Longford Leader and Shannonside News, the Famine walk featured on RTÉ News: Six One and Nuacht TG4.
Tomorrow, the walkers leave Mosstown at 11am. They'll stop at Ballymahon Harbour at 1pm, before continuing on to Abbeyshrule.
Are you joining us along the way? We'd love to hear from you. Follow us on Twitter @famineway and use the #Famineway & #Missing1490 hashtags.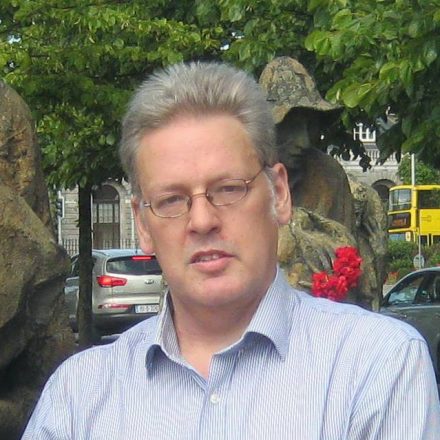 Dr Jason King is academic coordinator for the Irish Heritage Trust. He has previously taught at NUI Galway, the University of Limerick, the Université de Montréal, Concordia University, NUI Maynooth, and NUI Cork.
He specializes in Great Irish Famine digital content:
https://nationalfamineway.ie/
http://faminearchive.nuigalway.ie/